LUMATIV Debuts The NBA's Dallas Mavericks E5 Snapback
LUMATIV, an innovative wearable technology company based in Los Angeles that specializes in designing and producing illuminated apparel, announced the debut of the Dallas Mavericks E5 snapbacks during the inaugural Mavs SPIKED! Volleyball Tournament and Party, which took place Saturday, July 25th.
Forty-eight volleyball teams–comprised of eight Mavericks fans to each squad–battled it out for bragging rights and the chance to take home the first annual Mavs SPIKED! Championship Trophy. As the sun set over Dallas, the fans who came to enjoy the festivities came to life dancing on the sand-covered courts as they donned glow sticks, black light friendly neon colors and the brand new Dallas Mavericks Lumativ E5 snapbacks, as the DJ played crowd favorites late into the night.
Two different Dallas Mavericks Lumativ E5 snapbacks styles were available for purchase during the event. The first style was a throwback to the hardwood classic logo (originated in the 1980s) and original colors of the Dallas Mavericks, while the second style featured the present day logo–bold blue, white and silver colors that are more familiar today.
"Working with the Dallas Mavericks organization to make these products a reality for their fans was truly a pleasurable and fun experience," said LUMATIV Partners Ryan Totka and Adam Alson. Alson continued, "We know making a bet on a new product isn't always an easy decision, but hats-off to the Mavs merchandising team as they are really in touch with what fans want and will ultimately purchase."
The caps, produced in collaboration with the Dallas Mavericks, will be available exclusively for purchase at American Airlines Center during the Mavs' 2016 -17 NBA season.
"I love the combination of technology and fashion, it's extremely outside-the-box and reinvents team headwear currently in the marketplace. I'm very excited that I introduced our new Director of Merchandise, Alison Panasik, to Lumativ Partner Ryan Totka a couple of months ago, they collaborated to create a great product," said Mavs owner Mark Cuban.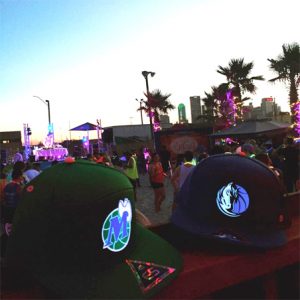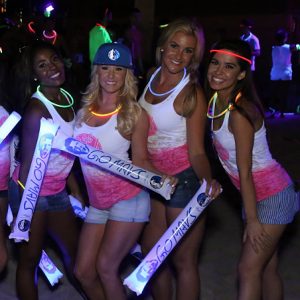 About LUMATIV
Founded in 2010, LUMATIV is an innovative wearable technology company based out of Los Angeles, California specializing in designing and producing illuminated systems for apparel and accessories. Taking over three years to perfect, LUMATIV developed a state-of-the-art, lightweight, patent-pending rechargeable electrical system that can be easily embedded in almost any wearable item of clothing. All products and systems are artistically engineered and designed for seamless integration to ensure superior fit and comfort, providing an optimal experience for its customers and partners. Website: www.lumativ.com
—
DoubleDown.Digital is a digital marketing and innovation incubation firm, servicing world-renowned athletes, entertainers, brands and startups. To learn more about how DoubleDown.Digital can help increase your company's digital footprint — both on social media and through original content creation — please contact us.